A year ago today President-elect Trump tweeted me – by accident. I replied highlighting climate change. The story got international coverage.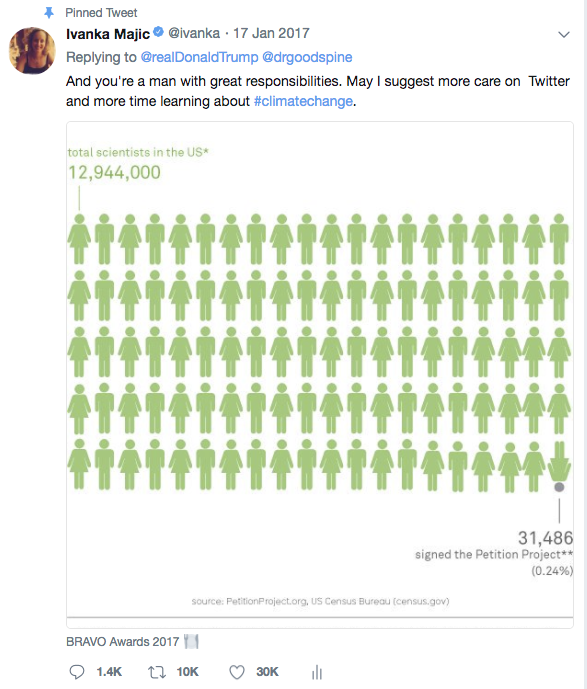 I had a choice: sit quietly and wait for it to go away, or take the platform offered to me and add my own voice. While I am a person who is vocal and I have opinions, I have never sought any limelight. I was going to ignore it.
The original tweet – meant for his daughter, Ivanka Trump – said: "@Ivanka Trump is great, a woman with real character and class." One of the news agencies wanted to bring a film crew to my home to talk to me about "classy women" or some such nonsense. It would be a "lifestyle piece", they said.
That annoyed me. I thought it trivialised a story that was more serious than that. President elect Trump was showing us all how careless he is – at best – and they wanted to talk about frocks and housekeeping.
So I chose to post a reply. I chose to step up. I thought that the future me would be much happier if I was brave than if I hid. Better to be an active participant in my own story, I thought. I took a little time, asked for input and feedback from people I trust and I pressed the Tweet button.
Thanks to technology I have the medium. And, as it happens, technology is my business. It's what I do. I am comfortable here, on the Internet. Thanks to President Trump's carelessness I also got the attention.
It was quite nerve-wracking hitting that button.
"What would people say?"
"Who do I think I am?"
…
"Who do I think I am?"
When my tiny daughter is much bigger I want her to know that she has the right to speak to anyone. That she has the right to speak up for herself. That her voice counts.
President Trump chooses to use Twitter as his personal soap box. There are more people like me who are inadvertently thrust into the limelight. It's a fair bet we will become a less and less exclusive group. What remains more of a concern is what he says: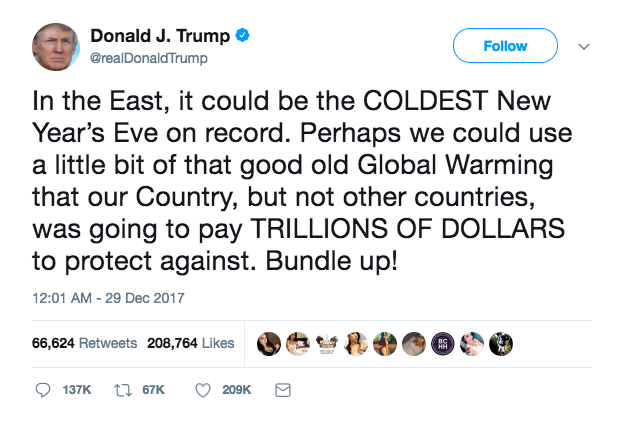 Since taking office he has withdrawn the US from the Paris Agreement. The US is now the only country not part of the agreement. The only country in the world that isn't willing to co-operate on preserving our planet.
He continues to put out messages that show a complete lack of understanding of what climate change is.
Being ignorant isn't great. Being ignorant and powerful is dangerous.
And he isn't simply ignorant of facts. He doesn't appear to know how a person in his position should behave. President Trump taunts the North Korean leader on Twitter. He calls him Rocket Man. He went as far as comparing sizes of buttons. It's rare that you hear one man inviting another to compare "buttons".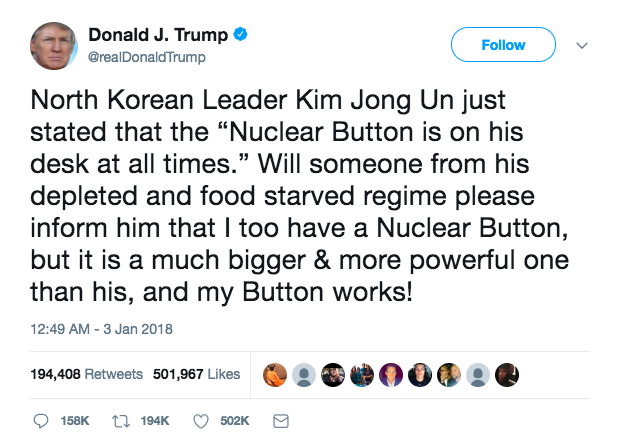 How is it that the most powerful man in the world gets to threaten nuclear annihilation as he pleases?
He produces and shares hate speech. On what whim or trigger will the country I live in, or the one you live in get called a "shithole" or get subjected to a travel ban?
I believe that in these times when it isn't clear if selfishness and ignorance will prevail we have a duty to keep speaking out.
Thanks to my moment of fame I have been able to be part of a few things in a way I never imagined.
My friend David happened across these women at the Women's March in London.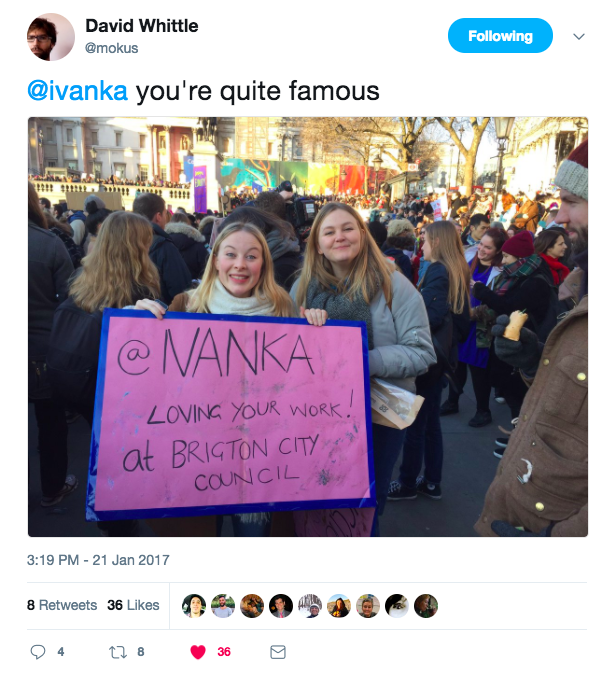 My friend Beth Bell attended the same march in Washington and made my tweet into a poster.
I got messages from people all over the world and that is pretty amazing if you ask me.
People are marching for women, marching for the climate, marching for science. The country that first put a man on the moon is marching for science. No wonder the president can treat climate change like it's a joke.
How did all this become normal?
Climate change is a force more powerful than us humans. It won't wash downstream nor will it be a thing that affects somebody else. It will affect all of us, no matter where we live or how rich or poor we are. Whatever our gender or political stance. Climate change is a real threat to our existence and we can't be complacent.
A nonsense, clumsy, careless tweet gave me a megaphone. You don't know what will amplify your voice so if you want people to hear what you have to say then you need to keep shouting.